Lunar eclipse will turn moon a fire red
Saturday's lunar eclipse promises to make the moon appear supersized and bright red for skywatchers in the Western United States and Canada.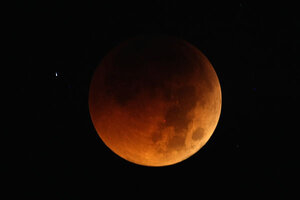 Bullit Marquez/AP
A total lunar eclipse will occur early Saturday morning (Dec. 10), casting the moon into shadow and making it appear bright red and supersized.
In North America, skywatchers located in western Canada and the United States should have a great view of the eclipse, which will start at around 7:45 a.m. EST (4:45 a.m. PST, 1245 GMT), when the Earth's shadow begins to creep across the lunar disk.
A total lunar eclipse occurs when the Earth passes between the sun and the moon, throwing the moon into shadow.
"For people in the western United States, the eclipse is deepest just before local dawn," NASA scientists said in a statement. "Face west to see the red moon sinking into the horizonas the sun rises behind your back. It's a rare way to begin your day."
Observers in Alaska, Hawaii, Australia, New Zealand, and central and eastern Asia should also be well placed for the celestial show. [Video: Return of the Blood Red Moon]
---
Follow Stories Like This
Get the Monitor stories you care about delivered to your inbox.