So a Russian, an American, and a Dutchman blast off in a rocket...
An international trio of astronauts blasted off in a Russian Soyuz rocket Wednesday, and are en route to the International Space Station.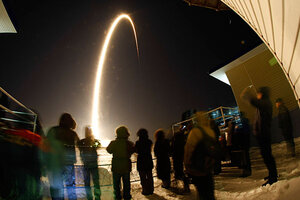 Dmitry Lovetsky/AP
A trio of astronauts blasted off aboard a Russian Soyuz rocket on Wednesday on a mission to bring the International Space Station back up to full manpower after an August cargo launch accident disrupted flights.
The rocket carrying Russian cosmonaut Oleg Kononenko, NASA astronaut Don Pettit and the European Space Agency's Andre Kuipers lifted off at 8:16 a.m. EST under freezing conditions at the Baikonur Cosmodrome in Kazakhstan, a NASA Television broadcast showed.
The all-veteran crew was scheduled to reach the orbital outpost at 10:22 a.m. EST on Friday. They will join station commander Dan Burbank and two Russian cosmonauts who arrived last month, bringing the complex back to its full live-aboard staff of six.
Soyuz flights to the station were disrupted by the failure of a Russian Progress cargo ship in August. The Progress' upper-stage engine is virtually identical to the one used to fly crews to the station, prompting a suspension of flights until the cause of the accident could be found and fixed.
Russian engineers traced the problem to contamination in a fuel line, which prevented the rocket engine from firing. The capsule broke apart as it fell back through the atmosphere, scattering debris over parts of Siberia.
After detailed inspections and new procedures to tighten quality control, Russia resumed station cargo flights on October 30 and crew transports on November 14.
---