Amazing planets: mini solar system, 'Star Wars' lookalike among new finds
The catalogue of newly found planets is becoming richer by the day. By one new estimate, virtually all the billions of stars in the Milky Way could have a planet orbiting them.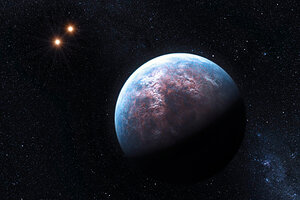 L. Calcada/ESO/Reuters/File
Planets orbiting other stars may be a dime a dozen in the Milky Way, but cheap hardly means boring.
From a new pair of planets like Tatooine of "Star Wars" fame, each with its own pair of suns, to a trio of small rocky planets zipping around a red-dwarf star, the cosmos presents a breathtaking plethora of planetary systems. A new estimate suggests that the Milky Way's population of planets exceeds 100 billion.
These are among the planet-hunting highlights from this week's winter meeting of the American Astronomical Society in Austin, Texas.
The ultimate goal is to find Earth-size planets orbiting in a star's habitable zone – the place where a planet, with the right atmosphere, can host water as liquid, ice, and gas on its surface.
While no Earth-scale planets in this Goldilocks zone have yet appeared, "these latest observations make it extremely likely that Earth-scale planets in the habitable zone exist, probably in large numbers," says Philip Armitage, an astrophysicist at the University of Colorado at Boulder.
Three results highlighted at the meeting speak volumes about how far researchers have come in the 16 years since astronomers detected the first exoplanet orbiting a sun-like star.
Between 600 and 700 extrasolar planets have been confirmed, depending on which online catalog keeps tally. NASA's Kepler mission has accounted for 35 of these, with another 2,326 "planet candidates" awaiting evaluation.
---