Northern lights: Huge solar flare may trigger Saturday night show
Northern lights show this weekend? A big solar plasma wave is heading toward Earth, and may create Northern lights or aurora borealis display by Saturday night.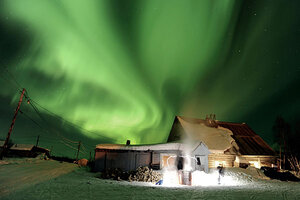 AP Photo/The Anchorage Daily News, Bob Hallinen, FILE)
A powerful flare erupted from the sun Thursday (Jan. 19), unleashing a plasma wave that may supercharge the northern lights for skywatchers in high latitudes this weekend.
The solar flare occurred at about 11:30 am EST (1600 GMT) and touched off a massive solar explosion — known as a coronal mass ejection — aimed at Earth, space weather experts and officials said. The charged particles from the sun explosion should reach Earth by Saturday night (Jan. 21), and could amp up northern lights displays when they hit the upper atmosphere.
"Forecasters say strong geomagnetic storms are possible when the cloud arrives during the late hours of Jan. 21st. High-latitude (and possibly middle-latitude) sky watchers should be alert for auroras this weekend," the skywatching website Spaceweather.com announced in an alert.
Several space telescopes recorded photos and video of the solar flare, including NASA's Solar Dynamics Observatory (SDO) and the Solar Heliospheric Observatory (SOHO). [Photo and video of the solar flare]
According to the Space Weather Prediction Center maintained by NOAA, Thursday's solar flare erupted from an active sunspot group called Region 1401. Another solar hotspot, called Region 1402, is also fired off a flare, the center reported.
Auroras occur when charged particles from the sun interact with Earth's upper atmosphere, releasing visible light in the process. The particles are funneled toward Earth's polar regions by the planet's magnetic field, with the northern auroral displays known as the aurora borealis, or northern lights. The southern counterpart is called the aurora australis, or southern lights.
---