In Death Valley, ancient volcano gives scientists a surprise
The Ubehebe crater in Death Valley National Park is much younger than previously thought, and represents a more significant volcanic hazard than previously thought, according to a new study.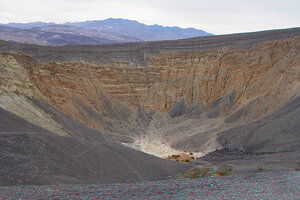 Courtesy United States Geological Survey
A half-mile-wide crater in Death Valley National Park may represent a more significant volcanic hazard than previously thought, according to a new study – though not enough to cancel your next visit to the park.
The crater, Ubehebe, formed in an enormous explosion between 800 and 2,100 years ago, the research team estimates – far more recently than earlier studies suggest.
Moreover, the scientists involved in the work suggest the precursors for an eruption – a supply of magma and an underground source of water the magma could turn to steam in a flash – may still lurk beneath the nearly 800-foot deep crater.
"We were really surprised by the youthfulness of the eruption," says Brent Goerhing, a paleoclimatologist at Purdue University and a member of the team. "We always had in the back of our heads that it could be young, within the past few thousand years. But we didn't think it could be that young."
The results appear in the Jan. 18 issue of the journal Geophysical Review Letters.
Ubehebe is the largest in a grouping of small craters – all thought to have formed the same way: magma rising through the crust to encounter groundwater. The searing magma instantly turned the water to steam, blasting out the crust above it.
The steam and ejected rock would have risen in an expanding column, only to fall back to the valley floor once it ran out of energy to keep rising. The collapse would have sent a hot flow of material with a consistency of just-mixed concrete spreading in all directions at speeds up to 200 miles an hour. Larger rocks the blast lofted would have pummeled the ground.
---