Canadian teenagers launch Lego man to the stars (+video)
A duo of 17-year-olds from Toronto attached a Lego man to a weather balloon, along with several cameras and a GPS tracker, and launched it into the Earth's upper atmosphere.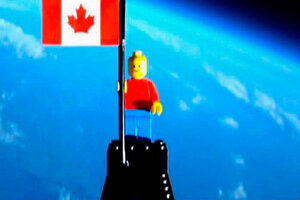 REUTERS/CBC via Reuters TV
Two teens from Toronto,Canada have launched "Lego Man in Space" using a helium filled weather balloon and captured stunning video of the miniature toy figure back dropped by the beautiful curvature of Earth and the desolate blackness of space that's become a worldwide YouTube sensation – over 2 million hits !
17 year olds Mathew Ho and Asad Muhammad lofted the tiny 2 inch tall Lego figure from a local Toronto soccer field up to a height of about 85,000 feet, or 16 miles (25 kilometers), where the 22 foot (7 m) diameter helium balloon burst in what is technically known as the stratosphere. The homemade styrofoam capsule – equipped with two video cameras and four digital cameras (Canon) – then parachuted back to Earth.
"We launched the project on January 7," Mathew Ho told Universe Today.
"After endless hours of hard work, we managed to capture stunning views of our atmosphere and put a 'Lego' man into near space!" said the ambitious teens who are 12th graders at the Agincourt Collegiate Institute.
The pair posted a YouTube video (below) documenting the entire voyage and some camera snapshots on their website on January 25.
Lego Man even snapped cool Moon shots – look closely at the video and photo below.
"Lego Man in Space" – The Video
---