Blue Marble: The science behind NASA's spectacular Earth images
NASA has released two striking hi-res images of our planet, which the agency has dubbed the 'Blue Marble.' Here is how the photos were captured.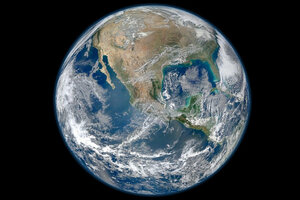 NASA/NOAA/GSFC/Suomi NPP/VIIRS/Norman Kuring
NASA's newest Earth-watching satellite is beaming back spectacular views of our home planet – huge mosaics of many images stitched together at the highest-resolution yet obtained. But there's a bit of science mojo at work to create the stunning photos.
The new Earth photos, which NASA scientists have dubbed "Blue Marble" views, come from the Suomi National Polar-orbiting Partnership (NPP) satellite. The minivan-size spacecraft is the first of its kind: an Earth-observing satellite built to collect data for both short-term weather forecasts and long-term climate models.
The latest photo was released Thursday (Feb. 2) and shows the sharpest view yet of the Eastern Hemisphere as it appeared on Jan. 23. The continent of Africa dominates the view, with the Middle East and Asia stretching up toward the top of the frame.
In the image, the Earth is striped by four huge vertical lines created by sunlight reflecting off the ocean. It follows on the heels of NPP's portrait of the Western Hemisphere, which NASA's Goddard Space Flight Center released last week and has been viewed 3.1 million times on the center's Flickr photo-sharing website.
---