Red Bull-fueled daredevil plans record skydive from edge of space
Austrian extreme skydiver Felix Baumgartner plans to ascend in a helium balloon to about 23 miles up, and then jump. He will break the sound barrier during freefall.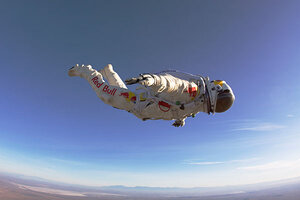 Red Bull Stratos/AP
One man's quest to make a record-breaking leap from near the edge of space is nearing make-or-break time.
Sponsored by energy drink Red Bull, Austrian extreme athlete Felix Baumgartner, 41, plans to skydive from a balloon in the stratosphere at an altitude of 120,000 feet (36,576 meters).
If he can do it, he'll become the first person to break the sound barrier outside of an aircraft. He'll also break a trio of other records that have stood for more than 50 years: Baumgartner's plunge would mark the highest skydive, the highest manned balloon flight and the longest free fall, at about 5 minutes and 30 seconds.
The quest, called Red Bull Stratos, recently got back on track after being stalled by a legal challenge claiming that the idea of the dive was earlier suggested to Red Bull by California promoter Daniel Hogan. That suit has now been settled out of court, and the Red Bull Stratos project is moving forward.
Baumgartner's balloon is set to launch from Roswell, N.M., in August, according to the Daily Mail.
---