Janice Voss, shuttle astronaut, remembered for NASA contributions
Janice Voss began her NASA career while still a student at Purdue University. Janice Voss was one of six women to fly at least five times on the space shuttle.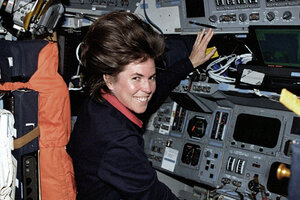 NASA/REUTERS/File
Astronaut Janice Voss, a veteran of five spaceflights and a former science director for a NASA exoplanet-hunting spacecraft, has died.
"Just got the very sad news that U.S. astronaut Janice Voss passed away last night," the Association of Space Explorers, an international organization representing more than 350 individuals who have flown in space, wrote on Facebook. "Our thoughts go out to her family and friends."
NASA confirmed Voss' death in a statement issued on Tuesday (Feb. 7), saying she had passed away overnight.
Chosen by NASA for the astronaut corps in January 1990, Voss served as mission specialist on five space shuttle missions, including the only repeat flight in the shuttle program's 30-year history. She flew with the first commercial laboratory, rendezvoused with Russia's Mir space station and helped create the most complete digital topographic map of the Earth.
Five-time shuttle flier
---