NASA goes commercial in its quest for extra space taxis
NASA seeks alternative ways to send astronauts to the International Space Station. Recent problems with Russia's Soyuz vehicles has shown a need for more space taxis.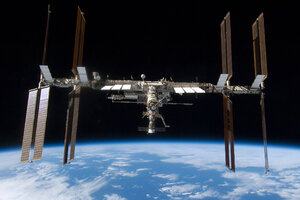 NASA/REUTERS
NASA is looking for more ways to get astronauts to the International Space Station. The space agency put out a call today for commercial space companies to submit bids as part of the latest round of the Commercial Crew Program, now called Commercial Crew Integrated Capability (CCICap). NASA plans to select at least two potential providers for "safe, reliable, and cost effective human access to space" and they expects to make multiple awards this summer, with values ranging from $300 – $500 million. Those winning the bids will need to develop an integrated system that includes both a crew vehicle and launch system, with work to be completed May 31, 2014.
NASA currently relies on Russian Soyuz vehicles to bring crews to the station, at a cost of $63 million per seat. The Soyuz has experienced unprecedented recent problems with both the Soyuz rocket and now a delay in the next two Soyuz flights to the ISS due to a leak of the capsule during testing.
NASA's Commercial Crew Program manager Ed Mango spoke at a forum this morning, prior to NASA's official CCICap announcement and said the hopes are that an initial crewed demonstration flight to low Earth orbit will take place in 2015-2016, with regular commercially operated flights to the ISS beginning around 2017.
The projected timing and funding all hinges on whether Congress approves NASA's budget request; Legislators provided $406 million for Commercial Crew in 2012, less than half of what the agency requested.
---