Russians reach mysterious lake 2.4 miles below Antarctic ice
Russian scientists confirmed they have drilled down to a 20-million year old freshwater lake far below the surface of Antarctica. Could this lake hold clues to life on other planets or moons?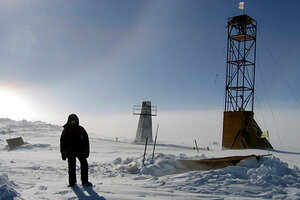 REUTERS/Alexey Ekaikin
After more than two decades of drilling, Russian scientists have reached the surface of a gigantic freshwater lake in Antarctica that had been hidden under miles of ice for 20 million years, potentially holding life from the distant past and a clue to the search for life on other planets.
Reaching Lake Vostok is a major discovery avidly anticipated by scientists around the world hoping that it may allow a glimpse into microbial life forms that existed before the Ice Age. It may also provide precious material that would help look for life on ice-crust moons of Jupiter and Saturn or under Mars' polar ice caps where conditions could be similar.
Valery Lukin, the head of Russia's Arctic and Antarctic Research Institute (AARI) in charge of the mission, said in Wednesday's statement that his team reached the lake's surface Sunday.
RELATED: Are you scientifically literate? Take our quiz
"There is no other place on Earth that has been in isolation for more than 20 million years," Lev Savatyugin, a researcher with the AARI who was involved in preparing the mission, told The Associated Press. "It's a meeting with the unknown."
---