Scientists drill past Antarctic ice to reach buried lake. What lies beneath?
Lake Vostok has been capped with Antarctic ice for at least 15 million years. Now scientists have drilled 13,000 feet to reach its surface. They'll soon learn what life forms have adapted to that cold, dark locale.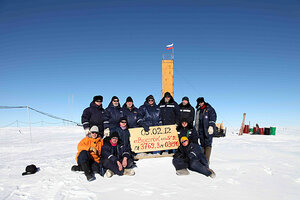 Arctic and Antarctic Research Institute Press Service/AP
From high atop an Antarctic ice sheet, Russian scientists appear to have opened a window on the possibility for life forms beneath the icy crusts ... or on Jupiter's moon Europa or on Saturn's moon Enceladus.
This week, researchers at the bottom of the world announced they had drilled through more than 13,000 feet of ice to reach the surface of Lake Vostok – a body of water roughly the size of Lake Ontario. The lake has been capped with ice for the past 15 million to 25 million years.
With this week's development, "we're one step closer to understanding subglacial lakes, and it's a pretty big step," says Robin Bell, a senior scientist at Columbia University's Lamont-Dougherty Earth Observatory in Palisades, N.Y.
The breakthrough came toward the end of the research season in Antarctica. Scientists anticipate bringing up and analyzing the first samples from the lake next December.
---