Is NASA giving up on Mars? (+video)
NASA's 2013 budget includes deep cuts to its planetary science mission, particularly its efforts to send spacecraft to Mars. Instead, the space agency will focus on human spaceflight and infrared astronomy. Is NASA now heading down the wrong path?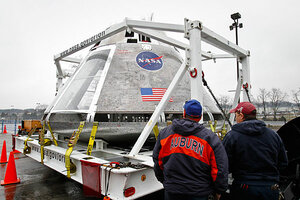 Glenn Baeske/The Huntsville Times/AP
As expected, NASA's 2013 budget request calls for an overall decrease in funding, with especially tough cuts to planetary science and education. The budget proposal of $17.7 billion is a decrease of 0.3% or $59 million from the 2012 budget and puts NASA at its lowest level of funding in four years. President Obama's budget request for NASA includes a flat budget through 2017, with no out-year growth even for inflation.
Using the phrase "very difficult fiscal times" countless times, NASA Administrator Charles Bolden tried to put an upbeat spin on the bad news during a press conference on the budget on February 13.

"We are having to make tough decisions because these are very difficult fiscal times," he said. "However this is a stable budget that allows us to support a diverse portfolio and continues the work we started last year."
While the proposal includes continued funding for the agency's human space programs —including $4 billion for space operations and $4 billion for human activities for the International Space Station, nearly $3 billion for the heavy-lift Space Launch System and Orion MPCV, along with $830 million for the commercial crew and cargo — planetary science took a huge hit, especially the Mars science program, considered by many to be the "crown jewel" of NASA's planetary program.
---