NASA to exchange 'flagship' missions for small-ball projects (+video)
NASA is drastically scaling back its Mars exploration initiatives in exchange for smaller, more efficient missions, agency officials say.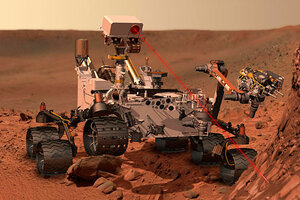 NASA/JPL-Caltech/Reuters
NASA is fundamentally overhauling its Mars exploration strategy, ditching multibillion-dollar "flagship" missions in favor of cheaper, more efficient projects for now, agency officials announced Monday (Feb. 13).
The decision is a response to diminished funding for robotic exploration going forward. In his federal budget request for next year, which was revealed Monday (Feb. 13), President Barack Obama allocated $1.2 billion to NASA's planetary science programs — a 20 percent cut from the current allotment of $1.5 billion, with further reductions expected over the next several years.
The cut is spurring a shift in NASA thinking about the best way to study Mars in the near term. This shift compels the agency to withdraw from the European-led ExoMars missions, which aim to launch an orbiter and a drill-toting rover to the Red Planet in 2016 and 2018, respectively.
"Instead, we will develop an integrated strategy to ensure that the next steps for Mars exploration will support science as well as human exploration goals, and potentially take advantage of the 2018-2020 exploration window," NASA chief Charlie Bolden told reporters. "The budget provides support for this new approach." [7 Biggest Mysteries of Mars]
No more flagships, for now
The new direction does not imperil NASA's $2.5 billion Mars Science Laboratory (MSL) mission, which will drop the 1-ton Curiosity rover onto the Martian surface this August to investigate if the Red Planet can, or ever did, support microbial life.
---