Could free-floating 'nomad' planets carry seeds of life in the universe?
A 'nomad' planet of the right mass, with the right atmosphere, and some source of heat – perhaps radioactive decay or tectonic activity – could allow for life either on the surface or underground.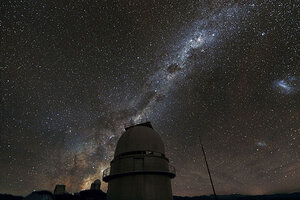 Zdenek Bardon/ProjectSoft, European Southern Observatory/AP/File
Imagine a planet where the night sky is all you have, any time, anywhere you go – where the phrase "day job" has no meaning.
The Milky Way may hold a vast number of such sunless planets – perhaps up to 100,000 times more than all the stars in the galaxy, according to a new estimate from researchers in the United States and Britain.
Since 1995, when hunting for planets outside the solar system grew from a fringe field to mainstream astronomy, researchers have uncovered as many as 760 extrasolar planets orbiting other stars – as the Earth orbits the sun – with more than 2,000 additional candidates awaiting confirmation.
The vast majority of these are planets in the classical sense – meaning they orbit host stars, although often arrayed in unusual patterns compared with Earth's home system.
Since 2000, however, astronomers have discovered planets with no obvious stellar home. A group of Spanish astronomers reported that year discovering planets ranging from five to 15 times Jupiter's mass free floating in a cluster of young stars in the constellation Orion. Last year, two groups of astronomers jointly announced the discovery of 10 Jupiter-class planets, the vast majority free of the grip of any host star. The results appeared last May in the journal Nature.
---