Why Asian carp are such a threat
Five states failed to secure an injunction that would close shipping locks in an attempt to prevent Asian carp from entering the Great Lakes. What's so bad about Asian carp?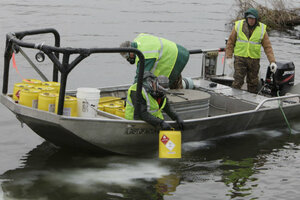 M. Spencer Green/AP/File
The US Supreme Court has refused to hear the Great Lakes states' appeal to close shipping locks to stymie the on-going incursion of Asian carp.
Michigan, Minnesota, Ohio, Pennsylvania, and Wisconsin are suing the Army Corps of Engineers to provide greater protection to prevent the fish from entering the Great Lakes. While this suit continued, the five states sought an injunction to have the Corps close locks on waterways that connect the Mississippi River with Lake Michigan.
The federal government said that the efforts proposed by these states would detract from the long-term strategy of the Corps. This is the third time such an appeal has been rejected.
The EPA currently classifies the Asian Carp as an invasive species. The Corps and the concerned states agree that the carp are a serious threat to the ecology of the Great Lakes area, as well as its $7-billion sport-fishing market. The disagreement pivots around whether the current schemes in place are enough.
---