How reflections on the moon could aid search for aliens
By studying "earthshine" – the reflection of the Earth on the Moon – scientists may have found a technique they can use to look for life elsewhere.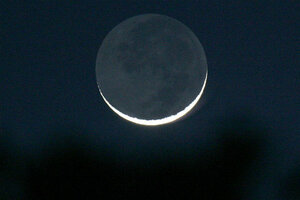 AP Photo/Dr. Scott M. Lieberman
Earthshine – a poetic, fanciful word for the soft, faint glow on the Moon when the light from the Sun is reflected from the Earth's surface, onto the dark part of the Moon. And as unlikely as it might seem, astronomers have used Earthshine to verify there's life in the Universe: Us. While we already know about life on our own world, this technique validates that faint light from distant worlds could also be used to find potential alien life.
"We used a trick called earthshine observation to look at the Earth as if it were an exoplanet," said Michael Sterzik from the European Southern Observatory. "The Sun shines on the Earth and this light is reflected back to the surface of the Moon. The lunar surface acts as a giant mirror and reflects the Earth's light back to us — and this is what we have observed with the VLT (Very Large Telescope)."

Sterzik and his team said the fingerprints of life, or biosignatures, are hard to find with conventional methods, but they have now pioneered a new approach that is more sensitive. The astronomers used Earth as a benchmark for the future search for life on planets beyond our Solar System. They can analyze the faint planetshine light to look for indicators, such as certain combinations of gases in the atmosphere – as they found looking at earthshine – to find telltale signs of organic life.
Looking at earthshine, they found strong bio-signatures such as molecular oxygen and methane, as well as the presence of a 'red edge' caused by surface vegetation.
---