Is it really easy to hack NASA computers?
A NASA official recently stated that a stolen laptop contained algorithms used to control the International Space Station. This incident is one of many breaches of NASA's security that have occurred over the past two years.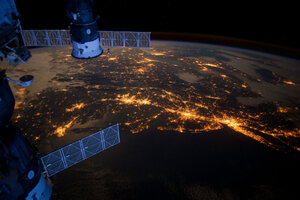 NASA/Reuters
Speaking before Congress on Wednesday, NASA's Inspector General admitted that an unencrypted laptop that was stolen last year contained codes for controlling the International Space Station.
This isn't the first report of a NASA device, such as a cell phone or a laptop, being compromised. Between 2009 and 2011 the agency reported the loss or theft of 48 devices, some of which housed personal employee information along with proprietary technical details and important financial data.
Yet this is only a small part of a much larger problem that has been troubling NASA for the past two years.
Last week, the investigative panel of House Committee on Science, Space and Technology held a hearing to examine NASA's exposure to cyberattacks and information theft. In a written statement to the committee, NASA's Inspector General, Paul K. Martin, told the panel that between 2010 and 2011, "NASA reported 5,408 computer security incidents that resulted in the installation of malicious software on or unauthorized access to its systems."
It's difficult to measure NASA's data security problems against those of other federal agencies. "NASA OIG is the only Office of Inspector General that regularly conducts international network intrusion cases," read Martin's statement. "[T]his fact could skew perceptions with regard to NASA's relative rate of significant intrusion events compared to other agencies."
NASA is taking steps to guard its data, a task that is not proving easy. Perhaps the most fundamental impediment to NASA's security upgrade is the sheer size of the agency. Information in NASA is constantly cycling around 550 individual networks that span the globe. Hundreds of thousands of people, including NASA personnel, contractors, academics, and members of the public access and communicate through these networks.
NASA spends over $1.5 billion on information technology each year, $58 million of which is allotted for security.
---