Navy railgun fires 40-lb. bullets at Mach 7 (+video)
Navy railgun: A Navy prototype of an electromagnetic railgun marks a major step in the process of installing the weapons on Navy vessels.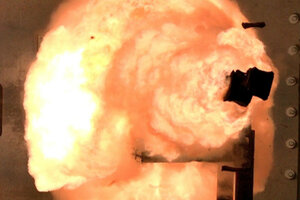 John F. Williams/Navy Media Content Service/AP
The first weapon-scale prototype of a futuristic Navy railgun began undergoing firing tests last week, the next big step toward putting the electromagnetic superweapon on U.S. warships by 2020. The Navy envisions using railguns to destroy enemy ships, defend against enemy missiles, or bombard land targets in support of Marines hitting the beaches.
Newly released video shows the prototype railgun using an electric-powered launcher rather than gunpowder to fire a huge hypersonic bullet in a cloud of flame and smoke. The Office of Naval Research hopes its new test phase — scheduled to last until 2017 — leads to a Navy weapon capable of hurling 40-pound projectiles at speeds of 4,500 mph to 5,600 mph over 50 to 100 miles (7,240 to 9,010 kilometers per hour over 80 to 161 kilometers).
The full-size prototype, made by BAE Systems, "looks like a real gun," said Roger Ellis, program manager for the railgun at the Office of Naval Research, during a media teleconference today. Previous tests involved clunky laboratory prototypes that would never see action aboard a Navy warship.
---