Unique hybrid deep sea creatures discovered off Costa Rica
Scientists found a pair of underwater environments where previously unknown hybrid creatures existed.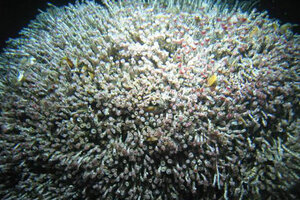 Scripps Institution of Oceanography/OurAmazingPlanet
Scientists have discovered a strange and rare hybrid site in the deep sea where two extreme seafloor environments exist side by side, and are home to a parade of weird hybrid creatures seemingly adapted to the hardships posed by both intense environments.
Researchers discovered hydrothermal vents and cold methane seeps in a swath of the the deep sea off Costa Rica in 2010, and found a host of unknown species living there.
Scientists made the discovery during a dive in the manned submersible Alvin to an area known as the Jaco Scar, where an underwater mountain is moving under a tectonic plate.
"The most interesting aspects of this site are the presence of vent-like and seep-like features together, along with a vast cover of tubeworms over large areas and a wealth of new, undescribed species," lead researcher Lisa Levin, of the Scripps Institution of Oceanography at the University of California San Diego, said in a statement.
Hydrothermal vents exist where cracks or rifts in the seafloor spew forth volcanically heated, chemical-rich seawater, whereas cold seeps, as their name reflects, are far less intense environments where fluids laden with methane and other hydrocarbons slowly seep out of the seafloor and cover a large area.
The team coined the phrase "hydrothermal seep" to describe the ecosystem. Their research is published in the March 7 issue of the journal Proceedings of the Royal Society B.
---