Filmmaker James Cameron to plunge to deepest spot in ocean
James Cameron plans to visit the Challenger Deep, which at seven miles below the ocean's surface is the deepest place on Earth, aboard a state-of-the-art diving craft.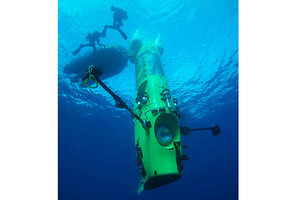 Mark Thiessen/National Geographic.
Filmmaker and explorer James Cameron has unveiled plans to visit the deepest place on planet Earth in the coming weeks, aboard a state-of-the-art, deep-diving craft built beneath a veil of secrecy in Australia.
If successful, the dive will mark only the second time that humans have ever visited the bottom of the Mariana Trench, some 7 miles (11.2 kilometers) beneath the surface of the Pacific Ocean.
The lime-green, cylindrical craft, dubbed the Deepsea Challenger — a play on the name of the deepest spot in the Mariana Trench, known as Challenger Deep — is a single-pilot submersible built to withstand the crushing pressures at 36,200 feet (11,030 meters) below the ocean's surface, and is capable of bringing back samples for scientific study. [Infographic: Tallest Mountain to Deepest Ocean Trench]
The famed director and writer behind Hollywood blockbusters such as "Titanic" and "Avatar," Cameron has long embraced new technology and adventure both on and off the screen. His latest seafaring adventure is backed by the National Geographic Society and Rolex.
Deep history
---