Sun continues to spew
The sun continues its active streak this week, spitting out yet another solar flare from the same region that produced two powerful eruptions this week.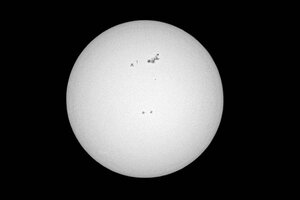 Kenneth Farmer
The sun is continuing its active streak this week, firing off another solar flare late Thursday (March 8) from the same region that produced this week's strong solar storm.
An M6.3-class solar flare — a mid-range eruption — spewed from the surface of the sun last night at 10:53 p.m. EST (0353 GMT March 9), according to an alert from the Space Weather Prediction Center, a joint operation by the National Oceanic and Atmospheric Administration (NOAA) and the National Weather Service.
Space weather scientists use five categories — A, B, C, M and X — to rank solar flares based on their strength and severity. A-class flares are the weakest types of sun storms, while X-class eruptions are the most powerful.
The M-class solar flare exploded from the same sunspot region, called AR1429, which has been particularly active all week. This dynamic region has already unleashed three strong X-class solar flares. On Tuesday (March 6), two powerful X-class eruptions triggered the strongest solar storm in eight years, Bob Rutledge, head of NOAA's Space Weather Forecast Office, told reporters today (March 9).
"When you take overall intensity and length — how long it persisted — we're confident in saying by some measures, it was the strongest storm we've seen since November 2004," Rutledge said. "That doesn't mean that between November 2004 and today we haven't had brief periods that were more intense. If you look at the storm overall for length and strength, it was the strongest storm since November 2004." [Photos: Solar Flare Eruptions of 2012]
---