Sky diver, after free-falling 13 miles, sets sights on record 23-mile jump
Felix Baumgartner landed successfully after a free-fall jump from 13 miles above Roswell, N.M., on Thursday. His ultimate aim: a 23-mile dive during which he would break the sound barrier.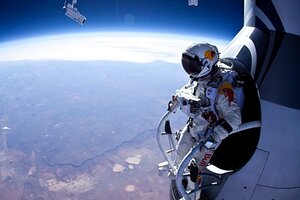 Jay Nemeth/Red Bull Stratos/AP
Felix Baumgartner calls it the ultimate sky dive, and he's more than halfway there.
The Austrian-born parachute jumper successfully landed after a free-fall jump from 13 miles above Roswell, N.M., on Thursday. The feat is the first of a pair of test jumps en route to a free-fall jump from 23 miles above Earth's surface, during which Mr. Baumgartner would break the sound barrier as he plunges. The jump for the record books is planned for later this year.
Only two other humans have safely parachuted after free falls from higher altitudes. US Air Force pilot Joseph Kittinger set a manned-balloon altitude record in 1961, then jumped from the balloon, which had reached 102,800 feet. In 1962, Russian Eugene Andreev completed a jump from 80,380 feet. Baumgartner's plunge on Thursday came at 71,581 feet.
The test was designed to take Baumgartner into a region above the Armstrong line, an altitude of between 62,000 and 63,500 feet named for a former US Air Force flight surgeon-general who is widely considered the father of space medicine. The Armstrong limit is the highest altitude a human can reach and survive outside a pressurized environment – either a cabin or suit. At that altitude, the atmosphere's pressure is so low that water boils away at a human's body temperature. Outside temperatures hover around minus 75 degrees Fahrenheit.
A space-suited Baumgartner rode to his jump altitude in a pressurized capsule that dangled below a 165-foot-tall helium balloon.
---