'Frozen Planet' will make you fall in love with north, south poles
'Frozen Planet' the seven-part BBC/Discovery documentary whose first episode aired Sunday night features penguins, polar bears, and a time-lapse brinicle, which has to be seen to be believed..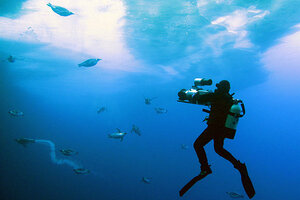 Chadden Hunter/Discovery Channel/BBC/AP
"The best stories on our planet are natural ones," says Alastair Fothergill.
But you'd expect him to say that. For two decades with the BBC, Fothergill has produced wildlife documentary series including "Planet Earth," ''Blue Planet" and, back in 1993, "Life in the Freezer," which explored Antarctica in all its frigid wonder.
Now he's executive producer of "Frozen Planet," a Discovery Channel/BBC co-production that takes a fresh look at Antarctica as well as its north-end counterpart, the Arctic, in seven gorgeous episodes premiering Sunday with the first two hours on Discovery. And while you may not be ready to dismiss filmdom's stars and screenplay writers as unnecessary, "Frozen Planet" makes a strong case that Nature — captured in the wild — can equal Hollywood for epic sweep and drama.
Comedy, too. In Sunday's second hour, male penguins by the hundreds of thousands anticipate the spring return of the females, for whose favor each male must compete by building a swankier nest than his rivals. In a delightful sequence, a painstaking penguin gathers stones one by one, only to have them filched, one after another, by a scheming neighbor whenever the hapless suitor's back is turned. These performers, with their Chaplin-esque gait and impeccable timing, would have been right at home in a 1920s two-reeler.
---