Mercury: Unusual insides and active history
New information collected by NASA's Messenger shows that Mercury was more geologically active than scientists previously thought.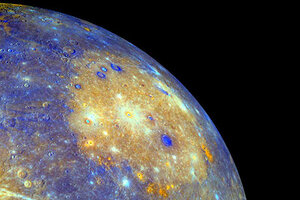 UPI Photo/NASA
The small, sun-scorched planet Mercury has an interior unlike that of any other rocky planet in our solar system and a surprisingly dynamic history, two new studies suggest.
Using observations from NASA's Messenger spacecraft in orbit around Mercury, researchers have found that the planet's huge iron core is even larger than they had thought, and it's likely overlain with a solid shell of iron and sulfur — a layered structure not known to exist on Earth, Venus or Mars. And there's more: Mercury appears to have remained geologically active for a surprisingly large chunk of its evolutionary history, researchers said.
"Many scientists expected Mercury, being a small planet only slightly larger than the moon, to have cooled off not long after it formed and to be essentially 'dead' for most of its evolution," said Maria Zuber of the Massachusetts Institute of Technology, lead author of one of the new studies and a co-author on the other. "But it appears that Mercury had an exciting and active middle age."
Mercury from above
---