Angry Birds Space: Should you download it?
Review: Released on Thursday, Angry Birds Space offers dazzling new physics.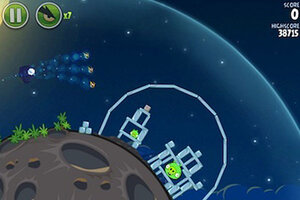 The Angry Birds series has been one of the most successful mobile games to date – and for good reason. Rovio has taken a simple gameplay approach and elevated it to an addictive medium for all kinds of players, both skillful and casual.
But no previously released game can prepare you for "Angry Birds Space," which sticks with the same concept, but adds more than enough new tricks to make it a must-have sequel (avaialble for Apple and Android mobile devices, Macs and PCs).
Once again, the birds are battling evil pigs as they sit in prebuilt arrangements — this time in space. Your team includes both old favorites like the yellow speeding bird, as well as newcomers such as the ice cube-shaped homing bird that freezes enemies on contact.
What's cool about "Angry Birds Space" is how it conceptualizes using gravity. Pigs are usually placed on planets that have a gravitational pull. You'll need to adjust trajectory to compensate. Once you do, though, you'll be surprised with the results. Rovio includes plenty of ingenious designs here, including ones that take advantage of outside debris, such as mines and asteroids.
But that doesn't mean the game's gone off the deep end with presentation. This is still an Angry Birds game through and through, with cute little animations, sharp images and a great spacey soundtrack that makes you feel as if you're on the far reaches of the universe.
---