Global warming began in oceans 135 years ago, suggests study
A study of temperature recordings from the 1870s suggests that the oceans began warming more than 100 years ago, much earlier than previously believed.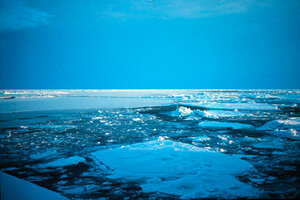 NOAA/AP/File
The world's oceans have been warming for more than 100 years, twice as long as previously believed, new research suggests.
The findings could help scientists better understand the Earth's record of sea-level rise, which is partly due to the expansion of water that happens as it heats up, researchers added.
"Temperature is one of the most fundamental descriptors of the physical state of the ocean," said the study's lead author,Dean Roemmich, an oceanographer at the University of California, San Diego. "Beyond simply knowing that the oceans are warming, [the results] will help us answer a few climate questions."
From 1872 to 1876, the HMS Challenger sailed the world's oceans along a 69,000-nautical-mile track, crossing the Atlantic, Indian and Pacific oceans. During the voyage, scientists among the 200-person crew took 300 ocean-temperature profiles, or measurements at several depths in each spot, with pressure-protected thermometers.
Roemmich and his colleagues compared Challenger temperatures with data from the modern-day Argo project, which uses 3,500 free-drifting floats to measure the temperature and salinity, or salt content, of the world's oceans every 10 days. The comparison showed a 1.1-degree Fahrenheit (0.59-degree Celsius) temperature increase at the ocean's surface over the last 135 years, a result corroborated by a large body of sea-surface temperature data that goes back more than 100 years. [The World's Biggest Oceans and Seas]
---