Were early humans cooking their food a million years ago?
The discovery of million-year-old ash and charred bone in a South African cave suggests that human ancestors were using fire much earlier than previously thought.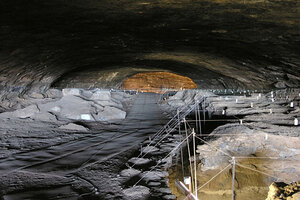 Courtesy of Michael Chazan/AP
Early humans harnessed fire as early as a million years ago, much earlier than previously thought, suggests evidence unearthed in a cave in South Africa.
Charred bones and ash discovered in South Africa's Wonderwerk Cave indicate the presence of frequent, controlled fires at the site one million years ago, writes an international team of scientists in a study published Monday in the Procedings of the National Academy of Sciences. If these findings are correct, they will overtake the earliest widely accepted evidence of early human use of fire, which was discovered in northern China and dates to 400,000 years ago.
Those fires, as well as the fires in Wonderwerk Cave, were probably burned by Homo erectus, a species thought to be a human ancestor or a relative of one. The cave itself is one of the oldest known sites of human habitation, with signs of early human settlement dating back two million years.
Unambiguous evidence for controlled fires is notoriously hard to come by. Outdoor sites are dubious, as they could have been natural blazes sparked by lightning. Even sites inside caves can be suspect, as ash and other burnt materials can be blown or washed in from elsewhere. The scientists working at Wonderwerk Cave examined the ash, which was found some 100 feet from the cave's entrance, under a microscope. The pieces of ash still had jagged edges, which would have likely been smoothed out had they been carried by wind or water from outside the cave.
According to Nature, the scientists even searched the site for bat feces, "because large piles of rotting guano can become hot enough to ignite spontaneously." But fortunately for the researchers, that layer of sediment was bat-excrement free.
---