Why it's so difficult to get pandas to mate
A newly published study of eight male pandas in China describes changes in their physiology as they prepare to mate. The peak panda breeding period lasts just over three weeks in spring, with each female's interest in sex lasting just 24 to 72 hours.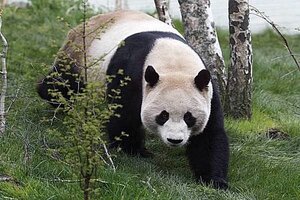 REUTERS/David Moir
Maybe Tian Tian has a headache. Or maybe Yang Guang just isn't that into her.
Whatever the cause, the panda mating season is drawing to a close without a successful coupling between the fuzzy pair at Scotland's Edinburgh Zoo. The rather Freudian headline on the zoo's press release reads "Close, but no cigar."
Panda breeding is a tricky business. Females are in the mood for only one to three days each year. This reproductive limitation initially gave researchers a hard time getting pandas to mate. But they're now having more success.
Though extensive research has explored female pandas' reproductive behaviors, the other half of the panda population has not been well described.
"There is a lot we don't know about the male giant panda," said Copper Aitken-Palmer head veterinarian at the Smithsonian Conservation Biology Institute and the lead author of a new study on male pandas' reproductive habits.
---