Indonesia earthquake: Why no tsunami this time?
Wednesday's Indonesia earthquake was similar in magnitude to the devastating 2004 quake, but there was no tsunami. The difference? Location.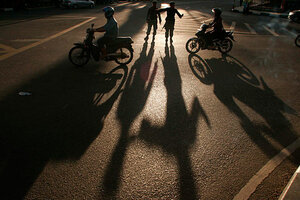 Heri Juanda/AP
A powerful earthquake and aftershock struck the Indian Ocean off of northern Indonesia Wednesday, triggering tsunami watches and evacuations throughout the Indian Ocean basin, from Australia to Kenya.
The first temblor, a magnitude 8.6 quake, struck at 2:38 p.m. local time, along a segment of a fault on the sea floor some 269 miles southwest of the coastal city of Banda Aceh, capital of Aceh province. A second, 8.2 magnitude quake struck two hours later roughly 120 miles south of the first quake's epicenter.
Both quakes occurred at relatively shallow depths – 14 miles and 10 miles – beneath the sea floor, according to data gathered by the US Geological Survey's National Earthquake Information Center in Golden, Colo.
---