Global warming mystery: Some Himalayan glaciers getting bigger
The Himalayan glaciers are the planet's largest bodies of ice outside the polar caps. New research shows some Himalayan glaciers got bigger between 1999-2008.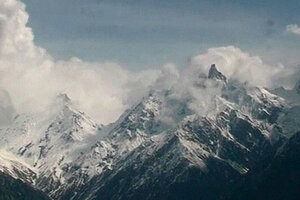 REUTERS/Inter Services Public Relations
Some glaciers in the Himalayas mountain range have gained a small amount of mass between 1999 and 2008, new research shows, bucking the global trend of glacial decline.
The study published on Sunday in the Nature Geoscience journal also said the Karakoram mountain range in the Himalayas has contributed less to sea level rise than previously thought.
With global average temperature rising, glaciers, ice caps and ice sheets melt and shed water, which contributes to the increase of sea levels, threatening the populations of low-lying nations and islands.
IN PICTURES: Disappearing Glaciers
The research at France's University of Grenoble estimates that the Karakoram glaciers have gained around 0.11 to 0.22 metres (0.36 feet to 0.72 feet) per year between 1999 and 2008.
"Our conclusion that Karakoram glaciers had a small mass gain at the beginning of the 21st century indicates that those central/eastern glaciers are not representative of the whole (Himalayas)," the experts at the university said.
The study appears to confirm earlier research that had suggested the Karakoram glaciers have not followed the global trend of glacial decline over the past three decades. The mountain range's remoteness had made it hard to confirm its behavior.
The Karakoram mountain range spans the borders between India, China, and Pakistan and is covered by 19,950 square kilometers (7,702 square miles) of glaciers. It is home to the second highest mountain in the world, K2.
---