Troublesome Karakoram glaciers getting bigger, new study suggests
Despite the global temperature increase and the overall shrinking of the world's glaciers, some glaciers in the Karakoram mountains have actually grown over the past decade, according to a new study.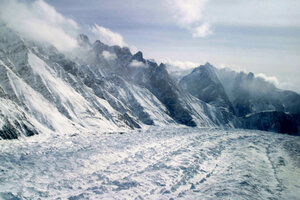 Channi Anand
Practicing good science often means accepting inconvenient data. The results of a new study that depict the recent growth of some Asian glaciers — despite the warming global climate — surely fall into this category, especially in the US where, according to a 2011 Harris Poll, public belief in manmade warming dropped from 71 percent in 2007 to 44 percent in 2011.
This research, led by glaciologist Julie Gardelle of the University of Grenoble, has confirmed suspicions about the massive glaciers in the Karakoram Mountains along the border of India, Pakistan and China. The researchers analyzed satellite images of a 2,168 square-mile area, and found that the glaciers are not losing ice, but probably gaining it. The study's results were recently published in Nature Geoscience.
For the past seven years, scientists have noted that the Karakoram glaciers have been spreading. Yet it was not clear whether the glaciers were merely becoming thinner, with the same amount of ice, or less, spread over a larger area, or if they were actually gaining mass.
---