Humongous rogue European satellite spotted hurtling through space
Envisat, a massive European satellite that lost contact with the ground earlier this month has been photographed by a French satellite.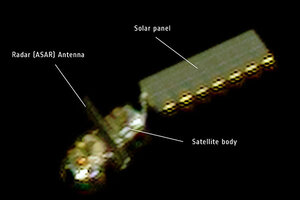 CNES
A massive European satellite the size of a school bus that has mysteriously stopped communicating with Earth has been spotted by another satellite in orbit.
The giant Envisat satellite, which is the world's largest imaging satellite for civilian use, was photographed in stunning detail by a French spacecraft that is also designed to snap high-resolution images of Earth, officials with the European Space Agency (ESA) said Friday (April 20).
The photo of Envisat in space reveals that the $2.9 billion spacecraft is intact and that its huge solar array is deployed. Envisat is a huge satellite that weighs about 17,600 pounds (8,000 kilograms). It is about 30 feet long (9 meters) and 16 feet wide (5 m), not counting the solar wing.
ESA satellite operators lost contact with the 10-year-old Envisat on April 8 and have been trying to revive the spacecraft ever since. As part of that rescue effort, ESA officials asked their international partners for aid in investigating the giant satellite's malfunction, and the French space agency CNES volunteered time with its new Pleiades spacecraft. [See Envisat's photos of Earth]
Like Envisat, Pleiades is an Earth-watching satellite designed to snap high-resolution images of the planet. Pleiades launched in December and is designed for use by military and civilian customers.
---