Are crop yields the Achilles heel of organic farming?
Organic agriculture can't compete with conventional in terms of crop yields, according to a new study.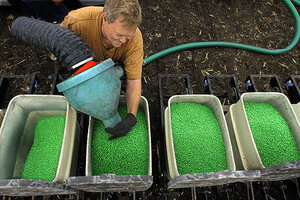 AP Photo/Seth Perlman
Besides occasionally finding a bug in your organic salad mix, what's the difference between conventional and organic farming?
Well, one distinction is that, acre for acre, conventional farming methods are more productive than organic, as recent research shows.
Scientists from McGill University in Montreal, Canada and the University of Minnesota looked at 66 studies that compared yields of 34 crops grown using organic and conventional methods. They found that crop yields produced using organic methods can be up to 34 percent lower than those produced using conventional techniques.
Organic farming practices appear to be particularly inefficient for grain and vegetable crops. The researchers suggest that lower yields are the result of the types of fertilizers that organic farmers use and how they use them. Farmers using conventional methods apply fertilizer, particularly nitrogen, as crops need it. Organic farmers tend to apply fertilizer only at the beginning of the growing season, and these inputs take longer to be incorporated into the soil and absorbed by plants.
Organic yields were lower than conventional yields across the board, but the scientists found that organic methods could produce yields close to those of certain conventional crops, such as strawberries and soybeans.
---