Don't believe the headlines. Wind farms do not cause 'global' warming.
A recent study published in Nature Climate Change suggests that large wind farms could be pulling down hot air at night, raising the average temperature of the local region. The results of the study, however, have been widely misconstrued in the news media.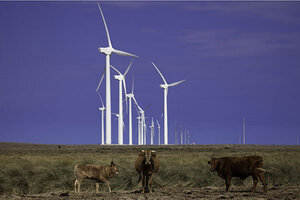 Business Wire
All energy technologies have nuances and drawbacks. New research published in Nature Climate Change found that wind farms are no exception.
Specifically, the study found that large tracts of wind turbines in remote areas of Texas appear to be increasing local surface temperatures. The results of this study have been misconstrued by certain media outlets as ironic evidence that a supposedly "green" technology is contributing to global warming, despite the lack of any supporting evidence.
Here are the facts: The team of researchers, led by SUNY Albany environmental scientist Liming Zhou, analyzed surface temperature data of Texan wind farms – the data courtesy of NASA's Terra and Aqua satellites. Zhou and his colleagues found that the immediate surroundings of the wind farms rose an average of 0.72 degrees Celsius between 2003 and 2011. The effect was most prominent at night. Some of the team has speculated that this localized warming trend could be an effect of the turbines pulling down warm air from higher altitudes at night, when the air above the land would otherwise be cooler.
In a recent University at Albany press release, Zhou warned that "the estimated warming trends only apply to the study region and to the study period, and thus should not be interpolated linearly into other regions (e.g., globally) or over longer periods (e.g., for another 20 years)," he said. "For a given wind farm, once there are no new wind turbines added, the warming effect may reach a stable level."
---