Antarctic ice sheet at risk, say scientists
A new study points out an unexpected weakness in the Antarctic ice sheet, which could melt rapidly within the next century, say scientists.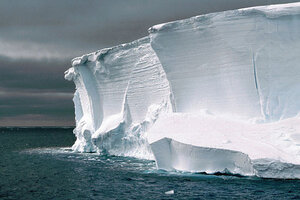 Ralph Timmermann, Alfred Wegener Institute
A new sector of the Antarctic Ice Sheet is at risk of melting rapidly within the next century, new research finds.
The study raises alarm about an area thought relatively safe from the direct influence of climate change. The Filchner-Ronne Ice Shelf in the Weddell Sea is somewhat sheltered from the open sea, but the new research suggests that warm ocean currents could soon invade its underbelly, melting the shelf from below.
"The Weddell Sea was not really on the screen because we all thought that, unlike the Amundsen Sea, its warm waters would not be able to reach the ice shelves," said study researcher Hartmut Hellmer. Melting is accelerating at the Amundsen embayment across the Antarctic Peninsula from the Weddell Sea.
The results of their new study, published Wednesday (May 9) in the journal Nature, surprised Hellmer, an oceanographer at the Alfred Wegener Institute in Germany, and his colleagues.
"We found a mechanism which drives warm water towards the coast with an enormous impact on the Filchner-Ronne Ice Shelf in the coming decades," Hellmer said in a statement. [In Photos: Antarctic Ice]
Predicting the melt
---