End of days near? Mayan find pushes calendar way beyond 2012.
A set of symbols found in an uncovered workroom where Mayan scribes or priests performed calculations suggests the Mayan calendar extends nearly 1,600 years beyond 2012.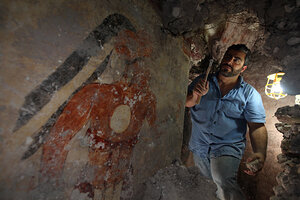 Tyrone Turner © 2012 National Geographic
Archaeologists exploring Mayan ruins deep in the Guatemalan jungle say they have discovered a tiny workroom where scribes or priests performed calculations tied to the Maya's intricate calendar system.
Some of the numbers and hieroglyphs adorning at least two of the room's walls are related to tracking time using the Maya's lunar calendar, one of at least 13 interlinked calenders the culture maintained, according to a research team announcing the results Thursday.
In addition, time references in one set of symbols appear to extend almost 1,600 years beyond Dec. 21, 2012, a date some doomsayers have claimed is the end of time by Maya reckoning.
The calculations and tables represent the oldest evidence yet showing Maya working and even reworking calculations that underpinned their religious ceremonies or identified the most auspicious periods for completing projects.
The room dates to around 800 AD and also sported a detailed wall painting of the local king, as well as murals depicting other figures, including one who could have been the scribe or artist who painted the royal portrait.
Finding murals of any kind on buildings this old – and as exposed to the destructive elements of a tropical climate and looting as this room had been – is rare enough.
"I was shocked" to see the king's portrait in a niche in one of the walls, says William Saturno, a Boston University archaeologist who led the research team, reporting its results in Friday's issue of the journal Science.
But to find walls bearing astronomical and calendar calculations? That makes the find especially exciting, Mayan scholars say.
The discovery opens a window "on the minds of the scribes ... to get some insights into this amazing facility they had" with calendars, time, and star-gazing, says Simon Martin, a Mayan scholar and associate curator at the University of Pennsylvania Museum of Archaeology and Anthropology in Philadelphia.
---