For sale: Tyrannosaurus skeleton at NYC auction
A nearly complete Tyrannosaurus bataar skeleton, the Asian cousin of the T-Rex dinosaur, is up for sale Sunday. Starting bid: $850,000.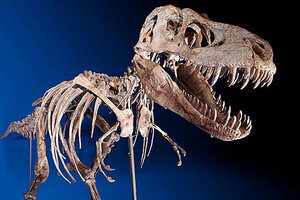 Heritage Auctions
In a showroom on the west side of Manhattan, minerals worth hundreds of thousands of dollars, tufts of mammoth hair, pieces of the moon, not to mention a nearly complete Tyrannosaur skeleton, are being unpacked and arranged.
On Sunday (May 20), Heritage Auctions plans to auction these items off, but for the three days before, they are on public display here.
The headliner is a nearly complete Tyrannosaurus bataar, fully prepared and mounted. This animal, whose remains measure 8 feet (2.4 meters) tall and 24 feet (7.3 meters) long, was an Asian relative to the infamous North American Tyrannosaurus rex. The few pieces missing have been replaced with casts. [Up For Auction: A Natural History Gallery]
"The coolest thing about dinosaurs are the claws and the teeth," said David Herskowitz, director of Natural History at Heritage Auctions. "Here you have like 80 percent of the claws are real, and 75 percent of the teeth are real."
The starting bid is set at $850,000, but Herskowitz estimates the value of this dinosaur at $1.4 million to $1.8 million. The sale was announced about four months ago, which isn't much time to raise money, he said, but added that the specimen is a good investment.
"Rarely [are] there more than two or three dinosaurs on the market at any given time because it takes two years and a couple $100,000 to prep and mount these things. … even just a 50 percent specimen," he said.
---