Man-to-dolphin conversation? Scientists can now talk like dolphins
A new device mimics the sound of dolphins, allowing scientists to possibly start communicating in the language that dolphins speak.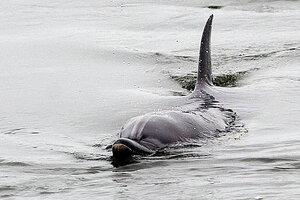 (AP Photo/The Orange County Register, Paul Bersebach)
A new dolphin speaker device could one day help us talk with these remarkably intelligent life forms, scientists say.
Dolphins live in a world of sound far beyond our own. They can distinguish very small differences in the frequency or pitch of sound waves, and can hear and generate low-frequency sounds below 20 kilohertz that lie within human capabilities, as well as high-frequency sounds of up to more than 150 kilohertz, well beyond the range of our hearing. In addition, dolphins not only can produce tones just as humans do, but they can also communicate at a variety of frequencies simultaneously. With whistles, burst-pulse sounds and clicks, dolphins use sound not only to communicate and to scan their surroundings and prey in the dark sea (called echolocation).
Acoustic research of dolphins to date has mostly focused on recording their sounds and measuring their hearing abilities. Relatively few audio playback experiments have been attempted, since it is difficult to find speakers that can project from a wide range of low to high frequencies like dolphins do, said Heidi Harley, a comparative cognitive psychologist at New College of Florida in Sarasota, who wasn't involved in developing the dolphin speaker.
IN PICTURES: 20 weirdest fish in the sea
Now scientists have developed a prototype dolphin speaker that can project the full range of all of the sounds dolphins make — from those used in communication to echolocation clicks.
The researchers employed piezoelectric components that convert electricity into physical movement and vice versa. These components were capable of broadcasting both high-frequency and low-frequency sounds. The researchers precisely tailored the sizes of these components and the acrylic disk to create an extremely broad range of sounds.
---