Florida scientists reduced to holding bake sale to fund NASA
In an effort to rescue planetary science projects amid budget cuts, scientists in Florida are holding bake sales and car washes to sway legislators to protect NASA's budget.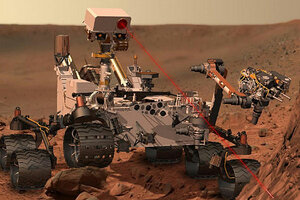 NASA/JPL-Caltech
Scientists are trading telescopes for aprons this week to sell Milky Way cupcakes, Saturn cake, and chocolate chip Opportunity cookies in an effort to salvage U.S. planetary science projects.
The 2013 budget proposal submitted by the Obama administration earlier this year would cut funding for NASA's planetary science projects by about $300 million. While Congress is still deliberating over the federal budget, groups of scientists are planning a series of demonstrations — in the form of bake sales, car washes and other events — for Saturday (June 9) to plead their case.
Though planet-studying spacecraft usually cost millions, or even billions, of dollars, every penny helps. That's the reasoning behind the Planetary Exploration Car Wash and Bake Sale to be held by University of Central Florida students and professors who hope to sway lawmakers into providing more money for studying the solar system. It is one of nearly 20 planned demonstrations for Saturday at sites across the country, organizers said.
"We're not asking for more of the pie, we're asking for less of a bite out of the pie," Laura Seward, a graduate student at the university who organized the event, said in a statement. "A strong robotic planetary exploration program is essential for a strong human planetary exploration program."
Like many federal agencies, NASA is strapped for funding under the current fiscal conditions. Just today (June 7) the space agency announced the cancelation of a new X-ray space telescope mission, the Gravity and Extreme Magnetism Small Explorer, because it is over-budget.
---