California Condors face 'epidemic' lead poisoning, finds study
Ammunition left in animal corpses is the primary cause of lead poisoning among California Condors, whose numbers have remained low but stable thanks to conservation efforts.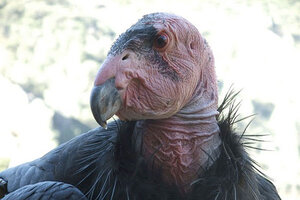 Photo courtesy of Daniel George
Despite three decades of conservation efforts, the endangered California condor is still on the brink of extinction, new research finds.
Without continued intensive work by humans, there could be as few as 22 of these enormous scavengers in California in as few as 11 years — the same low that the population reached in 1982, triggering emergency conservation measures. The culprit, scientists report Monday (June 25) in the journal Proceedings of the National Academy of Sciences, remains the same as it did 30 years ago: lead poisoning from leftover ammunition.
"The three main things we found were that condors are continually exposed to harmful levels of lead, the principle source of that lead is ammunition, and that lead poisoning from ammunition is preventing the recovery of the condor population," said study researcher Myra Finkelstein, a research fellow at the University of California, Santa Cruz. [10 Species You Can Kiss Goodbye]
Lead poisoning epidemic
Since 1982, the California condor (Gymnogyps californianus) population has grown to 400 birds. As of May 31, 2012, 236 of these condors were living in the wild in California, Arizona and Utah, with 131 in California alone. But even wild condors are subject to intensive management, from GPS tracking to vaccination and semiannual health checkups. Conservation officials also provide food near nesting sites and do periodic cleanups of nesting areas.
---