Are Colorado's wildfires caused by global warming?
The wildfires devastating Colorado have been linked to a streak of unusually hot weather, but they that does not necessarily mean that global warming is the culprit.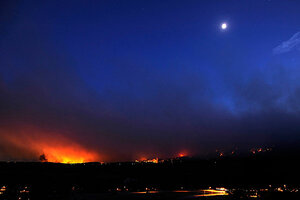 Mike Kaplan/US Air Force photo/Handout/Reuters
Devastating wildfires scorching the state of Colorado are linked to a nasty streak of hot weather across the central part of the country, but it's tougher to link them definitively to global warming, climatologists say.
Earlier research has found broad trends linking earlier spring weather, rising temperatures and increased forest fires, suggesting that climate change may play a role in fires like the Waldo Canyon blaze outside of Colorado Springs, which has burned more than 18,000 acres and consumed about 300 homes here. But linking a specific fire to the long-term trend of global warming isn't possible.
"You can't say it's climate change just because it's an extreme condition," said Colorado state climatologist Nolan Doesken. So far, Doesken told LiveScience, the spring of 2012 looks much like the spring of 1910, when warm temperatures hit early. That year, he said, was a bad one for fires. [Images: Devastating Colorado Fires]
Fire weather
The Waldo Canyon fire began on June 23 and has ripped through neighborhoods west of Colorado Springs, destroying a yet-unreleased number of homes. Just 130 miles (209 kilometers) to the north, the High Park wildfire outside of Fort Collins is well into its second week and has burned more than 87,000 acres. That fire killed one 62-year-old woman who was caught in her home.
---