Why is the sun's atmosphere hotter than its surface? Maybe it's those huge plasma tornadoes.
Scientists may have an answer to one of the sun's greatest mysteries: Why is the sun's atmosphere some 300 times hotter than its surface?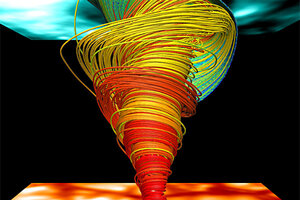 Wedemeyer-Böhm et al./Image produced with VAPOR
For years, scientists have struggled to determine why the sun's atmosphere is more than 300 times hotter than its surface. But a new study has found a possible answer: giant super-tornadoes on the sun that may be injecting heat into the outer layers of our star.
While comparing images from the Swedish Solar Telescope with others taken by NASA's Solar Dynamics Observatory, an international team of scientists noticed bright points on the sun's surface and atmosphere that corresponded with swirls in the so-called chromospheres, a region that is sandwiched between the two layers. The finding indicates that the solar tornadoes stretched through all three layers of the sun.
The scientists went on to identify 14 solar super-tornadoes occurring within an hour of each other. By using a three dimensional simulation, the team then found that the swirls could play a role in elevating the sun's outer layer.
A sun 'super-tornado' is born
Unlike tornadoes on Earth, which are powered by differences in temperature and humidity, the twisters on the sun are a combination of hot flowing gas and tangled magnetic field lines, ultimately driven by nuclear reactions in the solar core. [How Sun Tornadoes Work (Infographic)]
At the surface, or photosphere, cooled plasma sinks toward the interior like water running down the bathtub drain, creating vortexes that magnetic field lines are forced to follow. The lines stretch upward into the chromosphere, where they continue to spiral.
---