Company promises flights to the moon aboard recycled Soviet space station
The moon may soon be a tourist destination for millionaires with Excalibur Almaz, a British spaceflight firm, preparing to sell $150,000 tickets aboard a 1970s Soviet space station retrofitted with new thrusters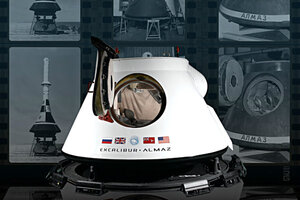 Excalibur Almaz
Space tourists may soon be able to pay their own way to the moon on board old Russian spacecraft retrofitted by a company based in the British Isles.
The spaceflight firm Excalibur Almaz estimates that it can sell about 30 seats between 2015 and 2025, for $150 million each, aboard moon-bound missions on a Salyut-class space station driven by electric hall-effect thrusters.
Excalibur Almaz founder and chief executive officer Art Dula estimates it will take 24 to 30 months to develop the remaining technology needed and to refurbish the ex-Soviet spacecraft and space stations the company already owns. It bought four 1970s-era Soviet Almaz program three-crew capsules and two Russian Salyut-class 63,800-pound (29,000 kilograms) space station pressure vessels.
Declaring that he is ready to sell tickets and that a 50 percent return on investment could be achieved in three years, Dula told the Royal Aeronautical Society's third European space tourism conference on June 19, "At $100 million to 150 million [per seat, we can sell] up to 29 seats in the next 10 years, and that is a conservative estimate. We [chose] not to use, for this presentation, the aggressive estimates." [Gallery: Private Space Stations of the Future]
---