Toting a fake Space Shuttle nose, NASA's 'Super Guppy' touches down in Seattle
A reporter shares his first-hand flight experience aboard NASA's Super Guppy, designed for carrying massive payloads.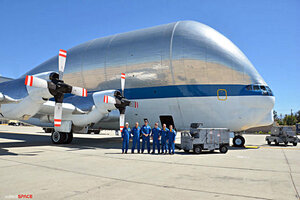 collectSPACE.com
Travis Air Force Base, Calif.
On Saturday (June 30), visitors to The Museum of Flight in Seattle will get an up-close look at a very unusual NASA aircraft. In fact, it's not uncommon for air traffic controllers and even fellow pilots who spot the "Super Guppy" to ask a simple but telling question: "What are you?"
I got to find out first-hand. On Thursday, I was invited by NASA to not just tour but fly aboard the Super Guppy, a bulbous cargo plane, as it flew between air bases near Los Angeles and San Francisco. The 90-minute trip up the California coast is one I won't soon forget, and according to the Super Guppy's flight crew, it was a rarity — perhaps even a first — for a civilian reporter.
I caught up with the Super Guppy — which is the last in a small fleet of Guppy aircraft flying after 50 years — at March Air Reserve Base in southern California. It's there that I met the team I'd be flying with, including flight engineers Michael Robinson and David Elliot, aircraft mechanics and loadmasters Dan Thompson, Bob Coyne and Jon Myrick, and pilots Dick Clark and Greg C. "Ray-J" Johnson.
---