Search for missing Amelia Earhart's plane wreckage begins in Honolulu
On the 75th anniversary of the aviator's disappearance somewhere over the Pacific, a team of scientists and historians hope to find out what really happened to Amelia Earhart.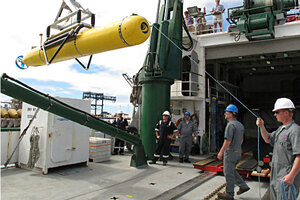 Oskar Garcia/AP
A $2.2 million expedition is hoping to finally solve one of America's most enduring mysteries: What exactly happened to famed aviator Amelia Earhart when she went missing over the South Pacific 75 years ago?
A group of scientists, historians and salvagers think they have a good idea, and are trekking from Honolulu to a remote island in the Pacific nation of Kiribati starting Tuesday in hopes of finding wreckage of Earhart's Lockheed Electra plane in nearby waters.
Their working theory is that Earhart and her navigator Fred Noonan landed on a reef near the Kiribati atoll of Nikumaroro, then survived a short time.
RELATED: Are you scientifically literate? Take our quiz!
"Everything has pointed to the airplane having gone over the edge of that reef in a particular spot and the wreckage ought to be right down there," said Ric Gillespie, the founder and executive director of The International Group for Historic Aircraft Recovery, the group leading the search.
"We're going to search where it — in quotes — should be," he said. "And maybe it's there, maybe it's not. And there's no way to know unless you go and look."
---