2012 shaping up to be hottest on record in US
The first six months of this year have been the hottest in the mainland United States since temperature records began in 1895. What's causing the unprecedented heat?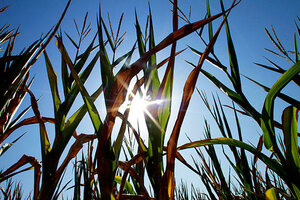 Seth Perlman/AP
June weather records are in, and the nation's unprecedented warm spell continues, making this the warmest first half of the year and the warmest 12-month period since record-keeping began for the continental U.S. in 1895.
Last month, like many before it, had heat that was above average, and high temperatures during the second half of June broke or tied records in 173 locations, while no record cools were reported, according to the National Climatic Data Center (NCDC).
Overall, the nation is experiencing its 10th-driest June on record, but the reality of precipitation varied from region to region, the NCDC reported, noting that the Intermountain West saw record or near-record dryness, while Florida received record precipitation thanks to Tropical Storm Debby.
Unusually high temperatures and lack of precipitation created ideal conditions for wildfires across the Rockies. Nationwide, wildfires burned 1.3 milion acres (526,000 hectares) last month. [Extreme Weather: Quiz Yourself]
---