Expect more weird weather, says NOAA
The National Oceanic and Atmospheric Administration's annual report draws connections between the extreme weather events of 2011 and a warming climate.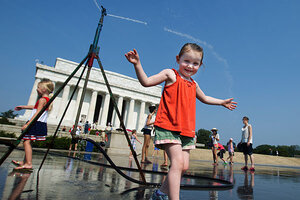 Manuel Balce Ceneta/AP
While cooler than the year prior, 2011 was still one of the 15 hottest since 1880, a report released today (July 10) by the National Oceanic and Atmospheric Administration has found.
The annual report, which examines a wide variety of climatic and weather data from around the world, saw a number of worrying trends continue from previous years and, along with a separate study, established connections between extreme weather events in 2011 and both a warming climate and a persistent La Niña pattern.
The researchers who contributed to the studies said that 2011 wasn't a one-off year for weird weather, instead it is what we are likely to see more of in a warming world.
Arctic warming woes continue
The first report noted that the total area of the Arctic Ocean covered by sea ice in both the summer and winter was the second smallest on record; the area covered by ice has been below historical averages since 2001.
Concentrations of greenhouse gases like carbon dioxide, nitrous oxide and methane continued to rise, according to the report, which was produced by hundreds of scientists from around the world and published online today in the Bulletin of the American Meteorological Society. [Video: Earth's Warming Since 1880]
---