Hubble telescope reveals mysterious 'ghost galaxies' of ancient universe
Formed some 13 billion years ago, three bizarre galaxies captured by the Hubble telescope are thought to be 'fossils' of the early universe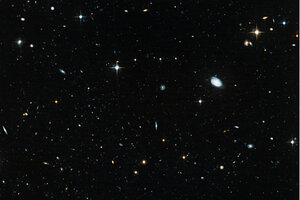 NASA/ESA/T. Brown (STScI)
The Hubble Space Telescope has captured images of three odd galaxies that may help scientists solve a 13 billion-year cosmic mystery.
The galaxies are so old and faint that astronomers nicknamed them "ghost galaxies" in a description. The objects are among the smallest and faintest galaxies near our own Milky Way galaxy, researchers said.
"These galaxies are fossils of the early universe: they have barely changed for 13 billion years," scientists explained in a July 10 announcement. "The discovery could help explain the so-called 'missing satellite' problem, where only a handful of satellite galaxies have been found around the Milky Way, against the thousands that are predicted by theories."
The three galaxies observed by the Hubble telescope are known as Hercules, Leo IV and Ursa Major. All three objects are small dwarf galaxies that appear to have begun forming about 13 billion years ago and then — for an unknown reason — their growth hit a cosmic wall. Since the universe is estimated to be about 13.7 billion years old, the galaxies were born sometime within the first billion years of the cosmos. [Video: Hubble Telescope Sees Ghost Galaxies]
"These galaxies are all ancient and they're all the same age, so you know something came down like a guillotine and turned off the star formation at the same time in these galaxies," said study leader Tom Brown of the Space Telescope Science Institute in Baltimore, Md. "The most likely explanation is a process called reionization."
---