Native Americans arrived in at least three waves, finds DNA study
A genetic study of Native Americans from Greenland to Peru has found that the Western Hemisphere was populated by at least three distinct migrations from Asia.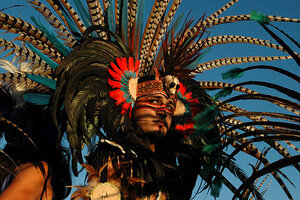 Andy Nelson/The Christian Science Monitor
Supporting a controversial view of how humans might have populated the Western Hemisphere, geneticists have found that groups from Asia traveled over the Bering Strait into North America in at least three separate migrations beginning more than 15,000 years ago — not in a single wave, as has been widely thought.
"We have various lines of evidence that there was more than one migration," said Dr. Andres Ruiz-Linares, a professor of human genetics at University College London and senior author of a report on the findings that was published Wednesday by the journal Nature.
The discovery was made possible by the sheer volume of genetic material the team was able to assemble and analyze, he said.
Ruiz-Linares and colleagues around the world analyzed DNA samples, primarily from blood, taken from hundreds of modern-day Native Americans and other indigenous people representing 52 distinct populations. These included Inuits of east and west Greenland, Canadian groups including the Algonquin and the Ojibwa, and a larger variety of people spanning the southern regions of the Americas from Mexico to Peru.
Investigating patterns in more than 350,000 gene variants, the scientists determined that most of the groups they studied did indeed descend from an original "First American" population.
---